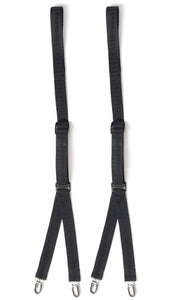 Shirt Stay Plus Footloop Stirrup Style
Key Features:
Elastic band that feels better on your legs
Adjustable clip ensuring that once adjusted, it will not readjust
Clip w/ nylon teeth that grips onto your shirt/socks
Clip ensures shirt stay will keep your shirt tucked in
Stitched multiple times ensuring durability
Description:
Shirt Stay Plus ® Stirrups* are designed to keep your shirt tucked in. Package includes two (2) individual elastic straps. The straps are made of a durable elastic material that has been field tested to be long lasting and comfortable. Shirt Stay Plus ® Stirrups consist of a "Y" shaped strap with two metal clips that connect to your shirt and a single loop that's place around your foot. The metal clips have nylon teeth that firmly grip your shirt without any damage and will not slip off. The adjustable buckle allows for a perfect fit and will not readjust during use.
 Military & Law Enforcement Tested.
Made with Advanced Industry Materials.
USA Made!
Condition: New