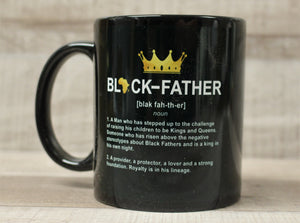 Black Father Noun Coffee Mug

1. A man you has stepped up to the challenge of raising his children to be Kings and Queens. Someone who has risen above the negative stereotypes about Black Fathers and is a king in his own night.

2. A provider, a protector, a lover and a strong foundation. Royalty is in his lineage.

New however these are first print mugs. They may have smudges, off center, white streak, etc. The mug shown in the picture is the mug that will be send.