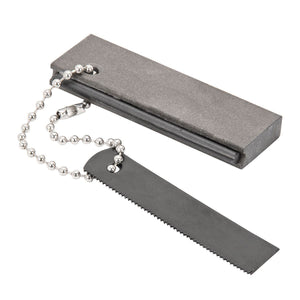 Magnesium Fire Starter

The 3" Magnesium flint with an aluminum striker with serrated edges. Strike the built-in flit for sparks to start hundreds of fires with a flame source of 5400º. Large enough to be used with gloves, yet small enough to store anywhere.
Measures 1"W x 5/8"W x 3"H.
New

To Use:
Gather twigs, leaves, etc.
Scrape the magnesium bar with the attached tool to create a small pile of magnesium shavings.
Scrape built-in flint to create sparks that will ignite the magnesium shavings.
Add additional fuel to the fire.